1
« Last post by apeiron24 on October 21, 2019, 06:44:53 AM »
The NYSC 2019 Batch C senate list is starting to come out on the NYSC Portal and this post is just to provide updates on the list of Institutions whose Senate list is already on the NYSC portal. If you have been checking and you are getting no record found, you should relax and keep checking.
Before I show you the lists of schools whose Senate list is out on the NYSC portal, let me show you how to correctly verify your name on the NYSC Portal.
Correct Way To verify Your Name On Senate List
Verifying your name on the NYSC portal for the senate list is simple and easy. You will need:
Name of your Institution
Your Matric Number
Your Surname
Your date of Birth (Submit like that if you can't select the year)
Once you have the above information, click the link below or scroll down to see the list of schools whose senate list is already on the portal.
If you can't see your name yet, just relax and keep checking. As soon as we are getting info, we will be updating this list.
After filling the above form correctly, hit the search button. If you are unable to select the year from the date of birth, hit search like that. It will bring your details if your list has been uploaded. If you are seeing "No Record Found" please relax, no Batch C list is yet on the NYSC portal.
List Of Institutions Whose Senate List Is OUT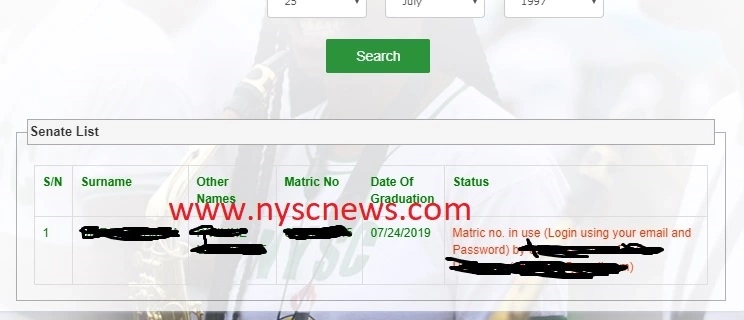 Below is the list of all the institutions whose senate list has been uploaded on the NYSC portal.
Please if your senate list is out on NYSC portal and your school name is not above, please comment "OUT:" and write the name of your school in front. Example!
OUT: Salem University Lokoja
Stay Connected!